No one tells you how to get it done.  If you visit Rio de Janeiro, you can accomplish it with these 3 simple steps.
1.    Wake up really early.  Depending on where you stay you can take the Metro, get off at Largo do Machado Station, then, take the bus that says Cosme Velho, this bus will take you to Corcovado which is the name of the mountain where the Christ is located. Plan accordingly, so you can be by Corcovado Train Station at 7am.  The first train leaves at 7:30 am  You can always drive, hire a van or take a taxi to Corcovado; however, I recommend this itinerary, it works! look at the picture below.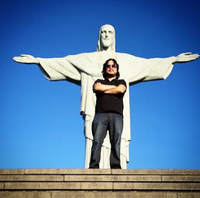 Useful links -
http://www.metrorio.com.br
http://www.corcovado.com.br
2.    You will have people around you and you have to take the elevator to beat the people who are taking the stairs.  The elevator will be located at the left side as soon as you get off the train.
3.    There will be at least 6 people in the elevator with you running to take the first picture.  They will try to get right in front of the Christ and start a line; however, you can go down the stairs where you can pose for your partner in crime who can take your photo.  The illusion that no one is there is made by the stairs as you can see in the photo.
Hopefully these tips can help you, you have a 1 minute window, after that minute is over, you will have 100 people around you! (booooo)   Please take a look at this quick 16 second video of my first look at Christ the Redeemer.   Good luck!
Join me to a city near you! click
here
Got any blog ideas? Email me to
Dario@intusion.com
About the Author: INTILUSION 
South America born / Texas raised Economist / World traveling songwriter & blogger / Explored close to 100 countries