Here are a few Don'ts so you look like you know what's up in Brazil during the upcoming World Cup! = )
1. Take several T-shirts of the national team you are supporting, as fans also exchange T-shirts at the end of the game.
DON'T be boring; if a fan from another national team wants to exchange T-shirts and you don't want to exchange them, at least offer to exchange info and make a friend.
2.   Attend fan fests, they are an awesome vicinity to enjoy the world cup festivities and an opportunity to get to talk to other fans.
DON'T mock or try to get into it with an English fan,  Hooligans will be everywhere!!!
Check out the locations for Brazil 2014:
http://www.fifa.com/worldcup/news/y=2014/m=4/news=fifa-fan-fest-locations-2323469.html
3.  Be prepared to be lured by the European fans if they happen to meet your team in one of the decisive rounds, they are willing to pay staggering amounts of money for YOUR ticket.
DON'T do it, no amount of money is worth not attending a World Cup game and if you are thinking of buying a  "cheaper" ticket to a scalper around the stadium, the ticket will be FAKE.  I have seen this scenario happening several times and the scene is not pretty = (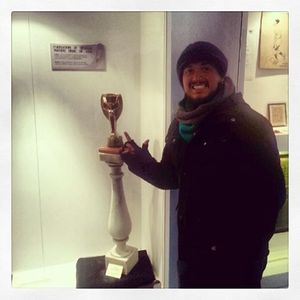 4.  Listen to samba, bossa nova, Brazilian Jazz, etc... in the local bars.
DON'T buy the hype of Pitbull's World Cup song; usually Pitbull's songs are awesome; however,  no song will ever top "The Cup of Life." 
The 2014 World Cup will be in Brazil and the party is promising!
 If you are going, enjoy and be prepared to have the time of your life!
Here's a photo with the original World Cup.  The Jules Rimet trophy.
Join me to a city near you! click
here
Got any blog ideas? Email me to
Dario@intusion.com


About the Author: INTILUSION 
South America born / Texas raised Economist / World traveling songwriter & blogger / Explored close to 100 countries