This is a quick 5-step guide for the New Orleans rookie, enjoy!

Step 1.  Arrive
If you are flying, know that the taxi from the Louis Armstrong Airport to the French Quarter is a flat $33 for 1-2 people, then $14 per passenger of three or more people.   Make sure to go downstairs after you arrive and get in a line to catch a cab.  If you are driving, well, parking is tough and could be expensive.  Good Luck! I ain't lying (see picture below).   You might  be better off renting a car if your stay is only for one day. I did it for my last birthday!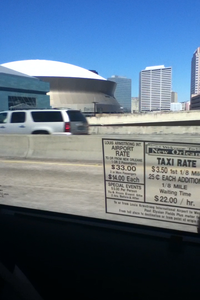 Step 2. Food
Plentiful and delicious everywhere you go!.  Ill keep the stereotypes, just because, so here it goes.  Alligator, turtle soup, frog legs, gumbo, jambalaya, beignets. oysters, you name it, you will find it!  There is such variety of Creole Cuisine, as well as French, Southern, and Seafood delicacies that are just outstanding!  You don't care? well you can just enjoy the good old Popeye's Chicken then! = )
I suggest: http://www.redfishgrill.com (try the BBQ oysters)
http://mandinasrestaurant.com (best turtle soup in town)
http://www.cafeminh.com (just try it!)
http://cafedumonde.com (cash only)

Step 3. Drink up!
Bars may be open 24 hours, 7 days a week.  Say what? Also, you can walk around the streets with a drink in hand as long as the container is plastic. I am 99.9% sure that you will spot tourists with a Hand Grenade. (see picture below)    My first time performing in NOLA was in 2009 and at the end of our set I said "Thank you Lake Charles."  So, please, pace yourselves. =) I suggest to go everywhere and find your favorite.  


Step 4. Plan ahead
Getting a hotel in NOLA can be difficult.  People think that high season only occurs during Mardi Gras and JazzFest; however, there are plenty of different festivals and events throughout the year.  Halloween/Voodoo Experience, anyone?

Step 5. Music
It is abundant!! You will hear live music from bar and street performers around the city.  You will not miss this experience, the venues have a great respect for the craft as they make sure that musicians and their patrons enjoy the atmosphere.


Yes, you can get to see plenty in one weekend and have a blast.  This city is rich in history, music, art, architecture and gastronomy. 

Explore! New Orleans is the prime example of what you can accomplish if you ever fall down or feel destroyed.   You have to look at your inner strengths /beauty and come out of it victorious! I love this city in a wicked kind of way.
 
Join me to a city near you! click here
Got any blog ideas? Email me to Dario@intilusion.com
About the Author: INTILUSION 
South America born / Texas raised Economist / World traveling songwriter & blogger / Explored close to 100 countries