Whenever I look back at our trip to the Dominican Republic, I will always remember its capital, Santo Domingo, as a place with nice welcoming people, a place with exquisite food, rich in history and of course, rich in music.
As we arrived to Santo Domingo, my traveling instincts kicked in right away and I proceeded to pay the $10 tourist fee before I checked in with immigration and customs.  We invited everyone at the airport to our show, which was to take place at the Hard Rock Café on March 10, 2014. Everyone welcomed us with open arms and we walked out of the airport to meet Valdez's cousin Mauri.
Immediately, I felt comfortable since the city took me back to my frequent family childhood trips to the Ecuadorian coastal city Esmeraldas.  I have been craving fried fish and I was taken to an outdoor stand by Boca Chica beach, where my wish was granted.  (see pic below)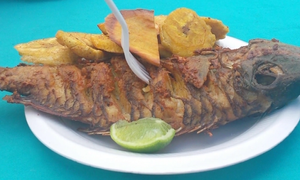 After a delicious meal, Mauri took us to different neighborhoods to meet Valdez's childhood friends and family.  It was great to see the happiness of all these people and thankfully it was music that brought us to this city.
I was able to share stories and learn about the culture of a country whose contagious way of life is literally represented by its music.   Whenever you hear Merengue music, you can hear the euphoria of a nation that likes to party. 
Valdez and I were very conscious on how important it was for us to get acceptance of the audience since the music I write is different from what they are used to.
As we arrived to the venue for sound check, I was instantly drawn by the surroundings which were rich in history.  I saw a monument in memory of Columbus and the first cathedral ever built in the Americas.   At that moment I realized that we were in a special place; a place where an explorer arrived and showed Europe that there was a "new world." (click on video below)
We were getting ready to perform in this inspiring vicinity.  These moments became memories I treasure and the main reason why I love to be a traveling musician.   - Dario 
About the Author: INTILUSION 
South America born / Texas raised Economist / World traveling songwriter & blogger / Explored close to 100 countries